Looking For Quality Windows For Your Orlando Home?
We specialize in window replacement projects using energy efficient, storm safe windows and doors for Orlando area home owners and businesses. We're a licensed distributor of custom-made PGT products, the largest window factory in the Florida.
407-830-7004
Window Installation Orlando
Call (407) 830-7004 For A FREE Window Replacement Estimate
Orlando's Best Window & Door Installation Experts
Installation of replacement doors, windows, and shutters are not tasks for the casual DIY handyman. These large-scale projects require the tools, skills, precision, and training that only comes from an experienced home improvement specialist like the factory trained the team at All American Exteriors. Windows and Doors specifically must be installed so that they float perfectly within the allotted frame. When windows and doors are fitted and installed unevenly, it can create a lopsided final product. To ensure the highest quality installation job, it is best to put the project in the hands of an experienced All American Exteriors Of Orlando professional craftsman.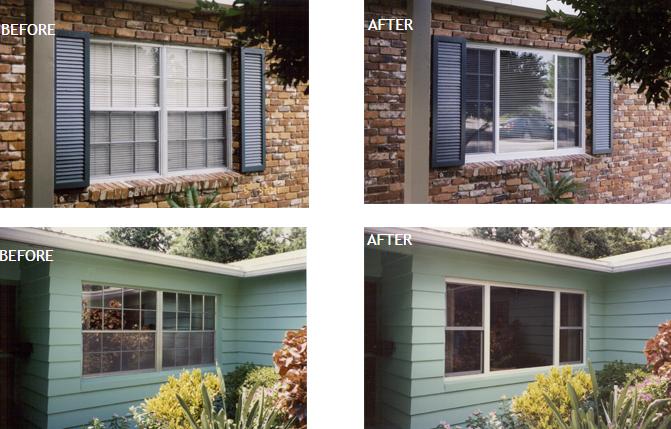 Whether windows won't budge or a window frame repair is required, our insured and fully licensed contractors provide the quality work that gets your windows working right. And if you've purchased brand new windows, we remove your old windows and install the new ones properly for fit and efficiency.
Our specialists are experienced with all manner of sash and casement windows, and we're happy to install new tilt windows, too, along with new styles of energy-efficient windows as they come on the market.
When it's time to replace windows, subtle signs are everywhere. Moisture on panes, chipped or faded exteriors and difficulty opening and closing windows are all signs that you may need to call All American Exteriors in Orlando Florida at 407-830-7004.
In a 10- to 20-year period, general wear and tear can break down the efficiency of your home's windows. Our company makes residential window repair and installation home visits that improve your house's overall value. Let our team help you decide whether it's time to repair or install new windows. Our reliable crews are teamed with experts who can make residential window repairs or installations that protect your home's efficiency.
Contact All American Exteriors to learn more..
Window Repair Tips
Window repair and installation are popular service requests. From the new construction to the oversized and larger windows of homes with amazing vistas, to the smaller windows usually located in your smaller rooms, we have tackled many different brands and settings.
When evaluating your own window needs, be sure to look at the following:
Check for rotting wood. The window frame likely needs to be replaced if a screwdriver goes into the wood easily. Cracked window caulking also needs to be inspected.
Replace caulk. Heat is a common culprit for drying out and cracking caulk. Applying exterior caulk on windows every six months will prevent water and air leaks that lower your efficiency in cold and hot weather.
Improve energy efficiency. When it comes time to replace your home's windows, consider energy efficient ones.
Call For More Information About Window & Door Installation 407-830-7004
We are by your side throughout the process. We offer evening and weekend appointments to suit your schedule!